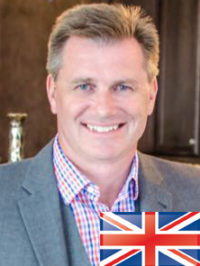 Mark was born in South Yorkshire, England, where he spent the first 39 years of his life. Married with two boys he is highly experienced in training, development, construction, sales and customer service. He arrived in Florida 2008 with his wonderful wife Jane, for a brand new adventure-to live the American dream. Mark has extensive business experience including – home ownership, rentals and investments, building and selling successful business in Landscaping, Pools and Homes. Mark has now joined forces with JC Penny Realty to provide you the customer with a unique blend of knowledge in the field of Real Estate. You will benefit from Mark's many years of hands on experience. Being a Realtor is not just a hobby. It is his one and only focus. This is a benefit to you, as you will receive 100% focus and attention to detail. In his spare time he enjoys walking his chocolate labs, cruising and anything to do with the outdoors.
Testimonials
Jason, Lindsay & Matthew
We have had the pleasure of Mark and Jane helping us achieve what has been a dream for many years. Having been selected to appear on 'A Place in the Sun' Channel 4 had asked JC Penny Realtors to sort out properties for us whilst we filmed 'A Place in the Sun', they were given a very difficult short list of our requirements, needed to be a condo, there needed to be lift access, it needed to be gated and all within ten minutes of Disney! Even with these requirements they came up with some great, but not quite right properties. Once filming had finished Mark and Jane took over, and boy did they look after us. First they drove us to set up an American bank account, then to meet Accountants, without either of these you can't purchase a property. Jane had come up with a list of further properties, which we looked at over the next two days. Mark & Jane drove us around from one property to the next, each time they listened to what we liked and didn't like, and the next properties had none of the dislikes. They both know there stuff. We narrowed it down to two properties. So they drove us back to both properties. One condo was ready to live in, nothing needed doing what so ever, the other had been empty for a while and needed some work carrying out. As we are UK based this was an issue as we had no clue about any local tradesmen, or anyone in Florida to gain access to let the tradesmen in! They again came to our aid, they could, if we bought that property, find the tradesmen we needed and let them in to carry out the work. So after dropping us at the airport we flew home with a 75% idea of which property we wanted. They advised us to not rush a decision and to take a step back and look at it with fresh eyes. Two days after getting back home we rang Mark to put an offer in. This is where Jane comes into her own, she dealt with back and forth negotiations between the bank and us, and in the end she negotiated a fantastic deal for us. We had regular calls and emails keeping us informed as to how things were progressing and finally the call came through to say it was done, deal closed, we now had our own little piece of Orlando sun. But that's not the end, not by a long way. Even though the deal was closed and they had no obligation to aid in any other way, they did! We bought the condo that required a bit of work doing. They found tradesmen, let us know the costs and then once agreed they took the time to go and let these into the property to carry out the work, and ensured it was carried out correctly, even sending us photos of the work been done! We still had questions and they came up with the answers, not a problem. We flew back into Orlando a month after closing the deal. Who was there to meet us, Mark and Jane, again they took time out to help us get our bearings, took us to the best places to buy the things we needed for the condo and ensured we had everything we needed, they then sorted out several Property Management companies to come and see us, so we could choose who we liked. They at no point tried to persuade us into anything, from properties to banks to tradesmen, they advised and let us call the shots; they answered any questions we had, no matter how daft it may have seemed. We now like to consider them as friends, and would without doubt recommend them to anyone wanting a little piece of Orlando sun. Thank you Mark & Jane, without you we would never have bought a property and would still be sat at home looking at properties and dreaming!